Over the past few seasons we have started to see has the use of unexpected & interesting campaign stars, not least the recent use of Jaden Smith for Louis Vuitton Womenswear! But it's not purely just about shock factor. Fashion designers are highly aware of the importance of social media power, and casting someone like Jaden in their campaign (of any gender) is sure to generate a massive response. But why not cast him in the menswear campaign?
Nicolas Ghesquiere (of Louis Vuitton) didn't stop there, using the CGI image of Lightning from the video game Final Fantasy, in the same series
I think that designers are inviting us to consider fashion in a different way. Fashion is increasingly genderless and perhaps Nicolas is breaking down these gender norms and boundaries with his campaign (you can even be a CGI image and wear Louis Vuitton)!
It's not even just LV showcasing unexpected Ad campaign stars, Marc Jacobs cast the Matrix director trans-woman Lana Wachowski for his eponymous SS16 adverts
It's refreshing to see someone having fun in an ad campaign, usually everyone is so serious. Marc Jacobs is having a lot more fun with fashion of late, possibly since he left Louis Vuitton and felt a lot less pressure. Which means that Lana was probably the ideal campaign star as she is always full of life.
Last season saw Givenchy cast rival designer Donatella Versace as their campaign star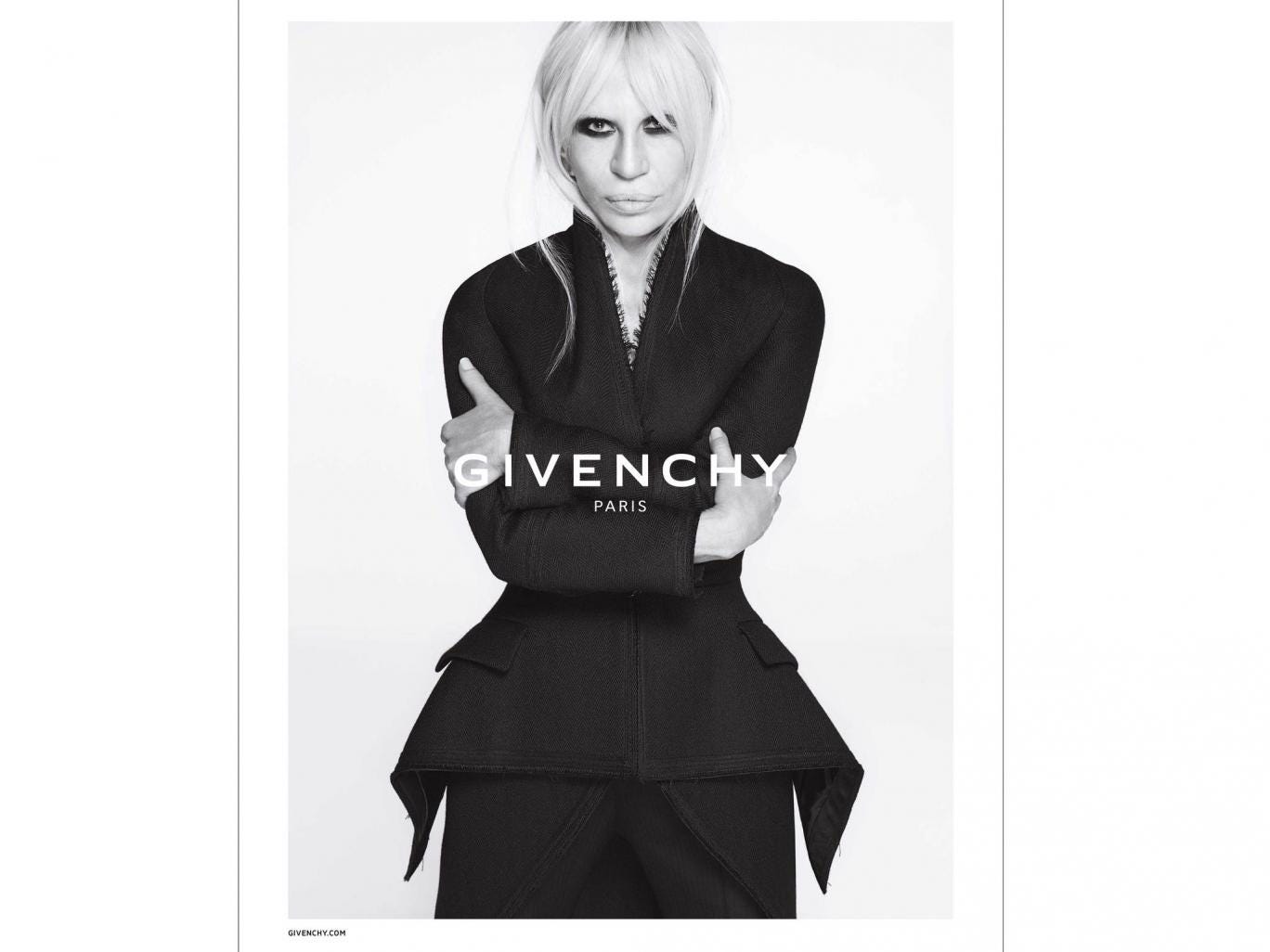 a controversial choice as Versace and Givenchy are direct competitors in the designer fashion market.
When asked about it, Riccardo Tisci (of Givenchy) said that he was thinking about the ultimate fashion icon, and who better than the iconic Donatella?!
Celine made us of American writer Joan Didion to front their SS15
Proving that fashion and style is ageless.
From a business point of view, it throws the options of model casting wide open, as realistically any of our models from any of the divisions could fit any category, breaking down the gender/size/age divisions. Maybe one day we'll just have one all encompassing model division, to cater to all the various needs of clients!
The end result of all these campaigns featuring unlikely stars is to open your mind to the possibilities of fashion. So often designers subvert and reimagine their entire brand or way of thinking, so maybe now it's our turn?